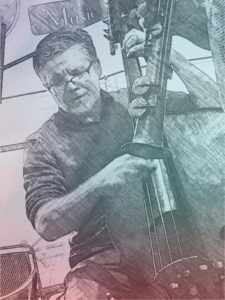 Kevin Brown is a bass player in the New York-New Jersey-Connecticut Metropolitan Area.  He also is a university teacher and professional audiobook narrator.
He has played hundreds of theatrical, pops, jazz, and classical concerts at venues ranging from Carnegie Hall to the Metropolitan Museum; from the Cutting Room to the Count Basie Theater; from 42nd Street's Signature Theater to the prestigious Paper Mill Playhouse in New Jersey.  He has backed entertainment acts including Joan Rivers, Bob Newhart, Marvin Hamlisch, Regis Philbin, Rich Little, and the Drifters.
He holds a Bachelor of Music degree in Jazz Studies and Master of Music degree in Double Bass from the University of North Texas.  Performances and recordings include the Staten Island Symphony, Metro Lyric Opera, Orchestra of St. Peter-by-the-Sea, New Jersey Pops, New Jersey Ballet, Monkeyworks Music Ensemble, and the Rock Opera Orchestra.
He also is an adjunct professor on the music faculty at Montclair State University; teaches music theory at Wharton institute for the Performing Arts in Berkeley Heights, NJ; and is available for private bass lessons.